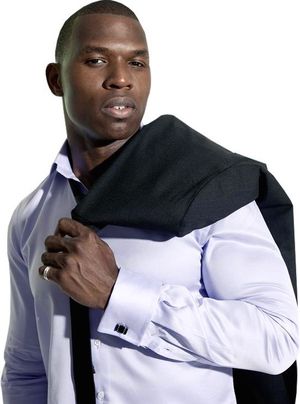 "I experience music as a gift from God. Every song that I sing is a devotion of the heart, and I strive to inspire the hearts of my listeners. Whether it is Christian, Classical, Adult Contemporary, R&B, or Negro Spiritual, the throughline is felt with soulful intention. Through song, I bring back the depth of Barry White, the soul of Mahalia Jackson, and the honesty and rhythm of Bill Withers, because music is the power!"
Lawrence Beamen's musical career really took off at the age of 16 when he was invited to sing for Rosa Parks. It was at this crossroad that Beamen realized his calling as a professional singer and performer. The experience paralleled his community focused upbringing in the church, where he first learned to sing, and it showed him early on the necessity of giving voice to what you are most passionate about. And so, Beamen pursued his passion for expressing himself and his values through music, later to become a dynamic talent in the music industry as a singer, song-writer, producer, composer and actor.
Beamen first began his vocal training in gospel hymns in his church congregation.  He moved from Vicsburg, Mississippi to California at a young age, bringing with him such influential Southern genres such as traditional sound then negro spiritual, later to blend with the more contemporary  sounds of the West Coast. On stage, Beamen captivates audiences not only with his rich baritone voice, but also in his humbly charismatic demeanor and strong physical presence. His music has been compared to such icons as Barry White, Stevie Wonder, Paul Robeson, Luther Vandross, Teddy Pendergrass. He integrates his classically trained vocals with a versatile range of musical abilities that maintain a familiar soulful richness with spiritual undertones and values.
Determined to rise above his humble beginnings, Lawrence pursued his passion for music with intense focus, while also earning his masters degree in psychology.
Beamen was top 5 on NBC'S hit TV show America's Got Talent, which garnered over 44 million viewers, Lawrence's powerful rendition of "Ole Man River" evoked powerful emotions in viewers, and brought the studio audience to their feet.
In 2014 Beamen's hit pop single, "Round and Round" reached #11 on Billboard Hot Singles Sales Chart.